Pigeon Forge The Island Escape Game
From the moment we walked into the first room of The Heist, we were.
#1 Rated "Escape Room" on TripAdvisor Pigeon Forge
#1 Rated "Fun & Games" Attraction on TripAdvisor Pigeon Forge
Located on The Island in Pigeon Forge, The Escape Game is the Smokie's #1 escape room and immersive adventure. As a premier provider of escape rooms, The Escape Game's adventures play like Hollywood blockbusters with twists, turns, and jaw-dropping surprises around every corner.
Their 60-minute adventures bring epic stories to life in a one-of-a-kind tactile experience. Here's how it works: You and your team will work together to find clues, overcome challenges, and ultimately complete a mission. Escaping will require teamwork, communication, wits, a sense of adventure, and most importantly: YOU!
The Escape Game truly is epic for everyone, from friends and families to thrill-seeking tourists and team building outings. And by making the most accessible and immersive escape rooms in the world, The Escape Game's adventures are more exciting, more inviting, and everyone gets a chance to save the day. Best of all, all adventures only take an hour to complete—so you can be the hero and still make it in time for dinner. Book your adventure at TheEscapeGame.com/PigeonForge.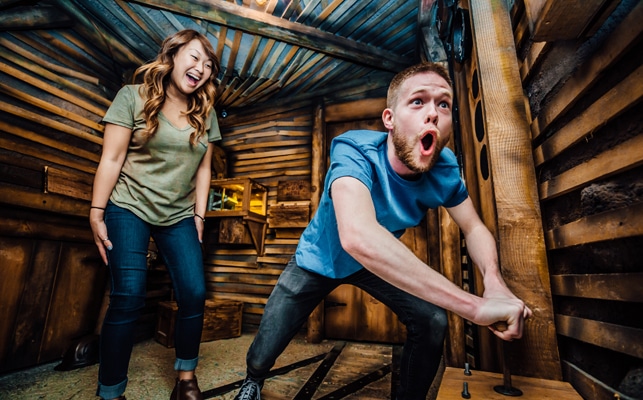 "A phenomenal success and the best entertainment experience you could ask for!"
– Tonya G, TripAdvisor
"The details, elaborate settings, & clever puzzles do not disappoint!"
– Kandice, TripAdvisor
"This place is top shelf. The staff is amazing, the facility is unparalleled. BEST ESCAPE ROOM I HAVE EVER BEEN TO!!!"
– Rick T, TripAdvisor
"If you have even 1% of thought in trying this out, then stop what you're doing now and book a room. YOU WILL NOT REGRET IT!!"
– Jason M, TripAdvisor
"By far one of the best experiences I have ever had in 43 years of life!"
– Tiffany, TripAdvisor
Choose Your Escape
Mission: Mars: You've landed on Mars, but your ship's oxygen, power and communication systems are down. Can you repair the ship before the solar flare hits?
Pigeon Forge Attractions
Prison Break: The merciless warden will be in a meeting for 60 minutes. Can you escape in time?
Gold Rush: You're on the hunt for hidden gold…but so is the mob. Find it first!
The Heist: A priceless piece of art has gone missing. Can you pull off the ultimate art heist and steal it back?
Classified: Be a hero to the world and stop an impending attack.
P.S. The Escape Game isn't just for those looking for an awesome adventure. The Escape Game is also a great team building activity and corporate outing. Your team will improve communication and morale and talk about the experience long after it is over. 90% of recently surveyed leaders said that their team's communication skills improved following their team building experience at The Escape Game. Learn more and book your team building experience at TheEscapeGame.com/PigeonForge/Team-Building.
Get connected with family and friends by playing The Escape Game at The Island in Pigeon Forge, TN!
The Escape Game
Want to make an everlasting memory with your family and friends while in Pigeon Forge? The Escape Game at The Island in Pigeon Forge is the place to go! My mom, sister, and I wanted to take on the challenge that we would never forget, so we headed to The Escape Game. We were excited to try and escape the game before time ran out. For each game, you get 60 minutes along with 3 extra hints that add 3 minutes each onto your total time to complete the game.
The Heist
The Escape Game has five different games you can choose from, Prison Break, Gold Rush, The Heist, Mission: Mars, and Classified. These games can be played with 2-8 players, and based on your ability to solve puzzles will determine if you can escape. We chose to play The Heist, to see if we could recover a stolen painting for an art museum. Our knowledgeable guide Olivia gave us the instructions on how to play the game. She played a video of the mission we needed to complete by working together to escape without getting caught. Once the time started, Olivia left the room and wished us luck on trying to escape.
Pigeon Forge Tennessee Escape Room
Solving Puzzles & Clues
The three of us worked together to find clues in the first room. We began to look high and low, underneath, beside, and behind anything that was in the room. As you're trying to solve the clues the timer not only keeps you on track but also keeps your adrenaline flowing! A couple of things we enjoyed about The Escape Game is we didn't have to use our cell phones, we got to spend quality time together while trying to escape, and there were many laughs while playing the game.
We found many clues and started to solve puzzles that would lead us into the next room. We almost escaped; however, the time ran out! We were so close to escaping with the found stolen piece of artwork. Since there was only 3 of us playing a game meant for 8, we would definitely play it again with more family and friends. When the timer ran out, Olivia came back into the room and told us we got very far in the game for having 3 people. Even though we almost escaped, it will always be a special memory between my mom, sister, and I. We are excited to play the other games they offer to see if we can escape!
If you're looking to have fun, quality time with your family and friends check out The Escape Game at The Island in Pigeon Forge! Make sure to use this special coupon: The Escape Game at The Island in Pigeon Forge
For more information go to The Escape Game Pigeon Forge
If you're looking for fun things to do while you're in Pigeon Forge, be sure to check out our coupons here:
Pigeon Forge The Island Escape Gameplay
Attraction Coupons – Outdoor Attractions – Restaurant Coupons – Dinner Show Coupons – Shopping Coupons – Spirit Trails
Pigeon Forge The Island Escape Games
For Smoky Mountains Information go to: Best Read Guide Smoky Mountains