How To Play 8-Ball Pool In iOS 10: iMessage 'GamePigeon' Install Instructions & Tips
GamePigeon is one of the hottest iMessage apps to play right now, and this guide will show you how to install it to play 8-ball pool and a bevy of other games. We'll also offer a few quick tips to make sure you're the biggest shark amongst your friends.
How To Install : 8-ball pool comes included in a pack of 14 games called GamePigeon. Right now it's exclusive to iOS 10 and the iMessage App Store. iMessage apps don't install like a standard app, so we'll walk you through the process
Open an active thread in iMessage and tap the small > icon by your keyboard
You should see an icon that looks just like the App Store one right near where you'd type a message. Tap that icon and a menu will unfold.
In the bottom left of the menu is a an icon that looks like a group of four dots. This is called the App Drawer. Tap it.
This displays all the iMessage apps you have on your device. For the purpose of this guide, hit the + sign labeled "Store."
The store will open and you should be able to tap the little magnifying glass search icon to type in GamePigeon. It should display as a game controller icon.
This setup looks identical to the standard App Store. It's a free download, so the button should read "Get." Tap it and it will be added to your iMessage.
Playing The Game
Repeat steps 1-3 above to get to your App Drawer. This time, however, the GamePigeon option should be there. Select it and choose "8-Ball"
From there you'll be presented with a message with a triangular play icon. Tap it and you can start making moves.
After each turn, tap the V-shaped button in the top right to shrink the gameplay screen. Send it just like you would a text message. Your friend replies the same way, and this process continues until the match is over.
If you've been looking for the game pigeon for android, then you are in the right place.
When game pigeon came out it was only available to the iOS users or iPhone users, but a lot of people who use android eagerly anticipated that gamepigeon for android. It's very important too that we note that game pigeon isn't available for download for iOS devices, but it's available for download for iMessenger users. So there is a difference, you are not installing the game pigeon on an iPhone, but it's an in-app game. So the next question is what if there is a messenger app that carries this game?
Know the Common Fouls in the game. Potting the 8 Ball. Potting the 8 Ball before all the object balls.
Can I get the game pigeon for Android:
Well, unfortunately, No! There is no official gamepigeon for Android.
Take note I used the word OFFICIAL, so this means that there are alternatives to the game pigeon that we see in the iMessenger app for iPhone users.
How to get game pigeon for Android:
However, prematurely pocketing the 8-ball before clearing your group of balls results in a loss. Tips for playing 8-ball pool. To gain an edge over your friends in 8-ball pool, the following tips and tricks might come in handy: Power isn't everything: 8-ball pool is a game of finesse and sometimes, a light touch is all that's needed. If you do not know how to play pool on game pigeon this guide is made by game lover. Check now to learn how to play pool on game pigeon.
We have done research and seen possible ways to get game piegon on your Android phone.
Quick Recommendations (Use Plato)
Remember what game pigeon is? It's an in-app game for users to play and INTERACT between themselves.
I think this is the selling point of game pigeon, that fact that it allows you to interact with friends.
Plato works the same way, although it's not an in-app game it's an android app on its own, it offers the same gaming and interaction between you and your friends.
1. Finding Alternative android apps like game pigeon:
Game pigeon is an 8 ball game right? And it's playing experience is not different from that of game pigeon unless it's because you can't play with friends, but my 2nd method will enable you to play the game with a friend.
So to get a game like gamepigeon for Android to follow these steps below:
Head over to Google's play store
Search 8 ball pool.
Choose any of the game you prefer, but choose an 8 ball game.
If you follow these steps above you will successfully get a game like a game pigeon for Android.
So I'll guide you a little bit on the different games you will see in the play store and the preferred ones.
Game pigeon alternatives

Below are some of the games that are preferred to be an alternative to the game pigeon.
8 ball game pool:
This is one game that can serve as an alternative to game pigeon see how it's described in play store:
Play the World's #1 Pool game
•The World's #1 Pool game – now on Android!•
Play with friends! Play with Legends. Play the hit Miniclip 8 Ball Pool game on your mobile and become the best!
COMPETE 1-ON-1 OR IN 8 PLAYER TOURNAMENTS
Refine your skills in the practice arena, take on the world in 1-vs-1 matches, or enter tournaments to win trophies and exclusive cues!
So this game actually gives you the chance to play with Friends! That's interesting.
Also read: Samsung Galaxy S10 / S10+ Messages keeps stopping Fix
King of pool – Online 8 ball game:
This is another amazing game too like game pigeon, here's how it's described in play store:
Free multiplayer 8 Ball Pool online! Join the most competitive sports community.
AUGMENTED REALITY POOL
With AR, you can spawn a life sized table on any surface. The mode features realistic ball physics and stunning 3D graphics. AR mode is fully customizable using your custom table felt and decals.
THE PREMIER POOL EXPERIENCE.
We've taken a classic 8 ball pool and given it a modern and sophisticated upgrade. Every detail has been passionately debated and carefully designed to present you with a game that is simple to learn, addictive to play, and incredible to look at.
BIG BETS. BIG WINS.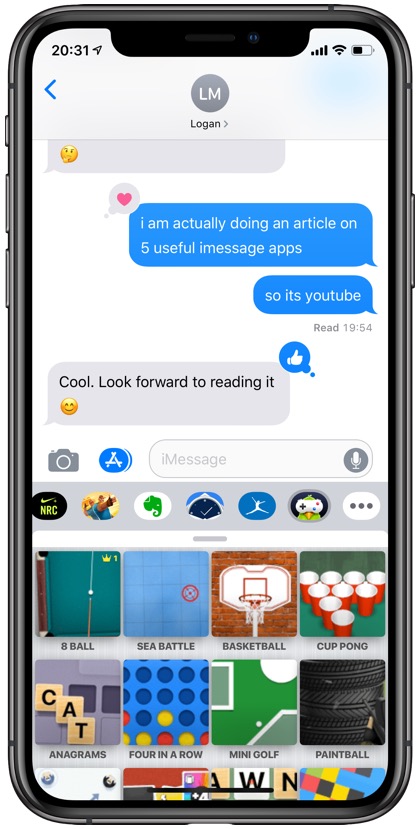 Face off against skilled 8 ball pool players from around the world. Win and gain access to exclusive high-stakes tables. Build up your cash and become the richest billiard player in the game.
PLAY WITH FRIENDS IN CLUBS.
Start a club with your most skilled friends. Fight your way to the top together, earn awesome prizes and become the KINGS OF POOL. Bragging rights guaranteed. So these are my favorite two games that serve as an alternative to the game pigeon.
Also read:Solarmovie alternatives
8 ball games in Facebook Messenger:
This method gives you similar gaming experience with that of the iMessenger app, it's my favorite method to get game pigeon for iPhone.
How to play 8 ball game in FB messenger:
Follow these steps below and you will be able to play game pigeon on Facebook messenger:
1. Open FB messenger
2. Search 8 ball pool on the search bar
3. Click on discover
4. Tap on any of the enlisted games(with a button 'play') to play.
Also read:How to download and install dolphin emulator in any android device
Conclusion:
It's a nice idea to have game pigeon for android, and it's amazing that we have scaled through all these processes. Remember there are 2 methods:
1. Download an Android 8 ball game from Google play
Game Pigeon 8 Ball Tips 4
2. Use Facebook messenger games to play an 8 ball game.
Game Pigeon 8 Ball Tips Game
Now that you know that there is a game pigeon for Iphone, share this post with your friends let them join you in playing this amazing game.